By John DiConsiglio
Pavla Ovtchinnikova thought she knew what to expect from a high-level history course, even a prestigious Dean's Scholars in Globalization class. Detailed lectures, lots of reading, long writing assignments. To her, military history often seemed more like war games, calculating wins and losses rather than the human cost of conflict.
The sophomore never imagined where Professor Tom Long's "The Price of Freedom: Normandy, 1944" class would take her. Within weeks of enrolling in the class, she would be sitting in a living room, sharing stories with the family of a fallen soldier from her hometown of Worcester, MA. She would come to think of that soldier—Private Aram Menzigian—as a close friend, even though he died 50 years before she was born. Over spring break, she and her classmates would travel to the Normandy cemetery where Menzigian and 9,000 other American soldiers are buried—and Ovtchinnikova would struggle to hold back tears while delivering a eulogy at Aram's grave.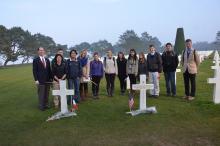 "It's safe to say that I had no idea what I was getting into," Ovtchinnikova said. "It's not every day you sign up for a history course and it ends up changing your life."
Life-changing experiences are exactly what Long hoped for in designing the course. As part of the Dean's Scholars in Globalization program, Long's class allows a select group of students to examine an issue of global significance in comprehensive detail. Dean's Scholars courses combine classroom-work with the opportunity to travel to other countries for an enhanced academic experience.
Now in its second year, the "Price of Freedom" immerses students in the life-history of a soldier from their home time who died in the invasion of Normandy during World War II. Research is extensive and includes tracking war records, combing through yearbooks, and interviewing family and friends. Students are also taken to Normandy, France, during spring break, touring the campaign's major battle sites and participating in an emotional eulogy ceremony at the Normandy American Cemetery.
"My goal is to give students a perspective on conflict and its impact on individuals and families that you can't get from reading a book or watching a movie," said Long, an assistant professor of History. "I want them to feel the weight of the human loss."
The beaches of Normandy were ground zero for the massive D-Day operation that began on June 6, 1944, and resulted in the deaths of at least 3,000 American soldiers. Aram, Ovtchinnikova's soldier, survived D-Day only to die in a training exercise weeks later. Ovtchinnikova sees signs of him throughout her Worcester neighborhood. For years, she's stepped over the plaque honoring him in the city square. She's passed the church he attended just blocks from her home. When traveling on Amtrak, she stood on the same spot in Worcester's Union Station where Aram Menzigian said his last goodbyes to his family.
"I'm reminded of him every time I pull into that station," Ovtchinnikova said. "Aram was 19 when he died. I'm 19 now. I can't help thinking how much of my life is ahead of me —and how his life was left unfinished."
The Weight of War
The makeup of the students drawn to the highly-selective course range from history and international affairs majors to those enrolled in art history and engineering. The reason for their interest varies, but many have personal family connections.
"My grandfather had a tattoo of his unit's logo on his arm," said John Stiff, BA '13, whose grandfather landed in Normandy. "When I'd ask him about it, he'd get very quiet."
Stiff and others have logged long hours at the National Archives uncovering their fallen soldier's combat unit records and action reports and immersing themselves in the veteran's personal world. Some comb through the obituary files of their local newspapers. Others visit neighborhood American Legion Halls and VFWs. Stiff used Ancestry.com to reconstruct the family tree of Arthur Gump, an officer from his Albuquerque, N.M., hometown. After messaging more than 300 Facebook families named "Gump," Stiff's legwork paid off: He discovered that Gump's daughter, born just two months before her father shipped out, lived in Atlanta.
Stiff flew to Atlanta to meet her and, together, they read through hundreds of pages of letters that her father had written to her mother from Europe. One of the requirements of the class is a written eulogy about the fallen soldier; Stiff asked Gump's daughter, now in her 60s, what she would write to the father she never knew. "She said thank you—for making her, for loving her mother, and for serving his country," For Stiff, it was a deeply emotional experience and has resulted in a friendship with Gump's daughter, whom he continues to keep in touch with.
"The experience has been amazing and not at all what I thought I was going to get out of the class," said Stiff.
Not every student's search yields perfect results. Sophomore Stefania Cotei enrolled in the course to complement her Navy ROTC training. She hoped researching Clarence Moheler, a soldier from La Vegas, would provide a personal perspective on war. Cotei traced Clarence's history—his Depression-era trek from Iowa to Nevada; his back-breaking job at a magnesium factory; the way he and his younger brother slept in a tent and hunted snakes and rabbits in the desert; and how Clarence enlisted even before Pearl Harbor.
Cotei found Clarence's obituary and his service record at the Archives, but she couldn't track down living family members and was unable to locate a photo of her soldier. At the Normandy cemetery, with the English Channel surf crashing in the background, Cotei knelt besides Moheler's grave and imagined his features—a shy, humble smile and rough hands worn from factory work.
"I never even saw Clarence, but I felt like I was in his presence," she said. In the eulogy she created of him, Cotei considered his last thoughts. He didn't dream of being a hero, she suggested. More likely, his final memories were of his brother or a sweetheart back home or even a warm meal. "I felt like I could relate to Clarence, that I know him beyond his sacrifice," she said. "I know him as a friend."
Photo: Sophomore Pavla Ovtchinnikova among soldiers' graves at the Normandy American Cemetery in France.