Student Newsletter - March 2022
Welcome to the CCAS Graduate Student Newsletter! Designed to keep you up to date with news and events, policies and processes, and all things for CCAS graduate students!
---
MARCH 2022
The Student Services Team is located in Smith 118. Our office will be open during normal business hours: Monday - Friday, 9:00 am - 5:00 pm. The Student Services team is here to support you and will continue to be dedicated to providing you guidance and serve as a resource to help you navigate university policies and procedures. Students may schedule a virtual, phone, or in-person appointment with your coordinator in addition to appointments related to Career Services. 
For our March newsletter we have the following topics:
---
Career's Corner
Career Coaching Lab
"Move from insight to action as you navigate the path from graduate school to career."
Interview Strategies: Learn and practice effective ways to communicate how your interest, skills and education can positively serve the needs of the position for which you are applying. 
Build Your Network: Explore the most helpful tips for building your network as you navigate your career journey. 
Define Your "Why": Create awareness as to where your interests and values align with your goals and objectives.
Develop Toolbox: Be ready to apply for jobs and internships by creating your professional resume, cover letter and social media profile. 
Schedule your appointment today through Handshake with Wendy Wright, CCAS Career Coach.
---
Wellness Corner
Counseling and Psychological Services (CAPS) is offering a variety of virtual workshops throughout the Spring 2022 semester. Please visit the CAPS website for more details and information on how to register.
Managing Depression - March 10th at 1:00 p.m.
---
Notice for New Students (Spring 2022) 
For students who started their program of study in the Spring 2022 semester, please make sure that you have turned in all official documents and transcripts required as part of the admissions process. Students who are still missing documents will have a hold placed on their account and will not be able to register for the Fall 2022 semester until those documents are submitted.
---
Important Dates
Please note the following February events. To view future events, please visit the Current Student Events Website.
The Office of Graduate Studies is excited to celebrate Graduate Student Appreciation Week (GSAW). Launched in 1993 by the National Association of Graduate-Professional Students, GSAW serves to support and acknowledge graduate and professional students. The week recognizes the contributions, impact, and value of graduate and professional students on campuses throughout the United States.
We will have loads of giveaways, prizes, events, food, and the opportunity to shout-out your fellow students! More details will follow closer to April 4th.
---
ETD Deadlines for Spring 2022 Graduates
ETD Workshop for Ph.D. Students
---
Tax Information
The Tax Department provides information regarding tax issues that may impact GW students, such as the taxation of payments received from the university (including salary, scholarships, stipends, etc.,) helpful tax forms, and student publications.

The International Student Tax Workshop is scheduled for Thursday, March 10th from 11:00 am via Webex. Prior registration is required. If you cannot make it to this workshop, you can also register to attend one of the webinars that Sprintax is conducting. More information, webinar dates, and registration links are available on the GW Sprintax page.
---
Congratulations to our Bouchet Honor Society Inductees!
Please join the CCAS Office of Graduate Studies in congratulating the following GW 2022 Edward Alexander Bouchet Graduate Honor Society inductees. Named for the first African American doctoral recipient in the United States, the society recognizes and promotes diversity and excellence in doctoral education and the professoriate.
Anthony J. Cade II (History)
Claire Charpentier (Genomics & Bioinformatics)
Stephanie Gomez (Microbiology & Immunology)
Axelle Kamanzi Shimwa (Human Paleobiology)
Kristen Tuosto (Human Paleobiology)
---
Congratulations to our 3MT Winners!
We want to thank all of our participants for presenting their dissertation research at the 2022 Three Minute Thesis (3MT) dissertation competition! You can view the recording of the competition on the Columbian College of Arts and Sciences Facebook page.
First Place: Dustin Abele (Chemistry)
Second Place: Ruoyu Chen (Economics)
Third Place: Anthony Hennig (Systems Engineering)
People's Choice Winner: Ferhan Guloglu (Anthropology)
---
Congratulations to our Valentine's Week Raffle Winner!
Thank you to all our students who stopped by the CCAS Office of Graduate Studies from February 14 to 18 to grab a cookie! We had a great time meeting all of you, and we look forward to seeing you again throughout the semester! Our raffle winner was Dominique White, who is pursuing her MA degree in Women's, Gender, and Sexuality Studies. Congratulations!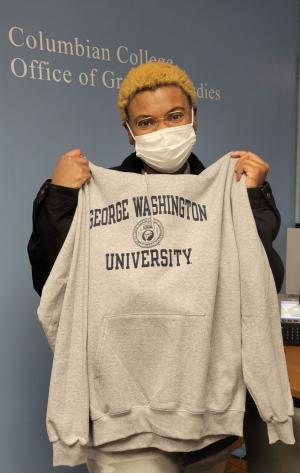 ---
Funding and Professional Development Opportunities
National Endowments for the Arts and Humanities Announce Grant Awards
The National Endowment for the Arts (NEA) has announced grants to 1,498 institutions totaling $33.2 million and the National Endowment for the Humanities (NEH) has announced grants to 208 projects totaling $24.7 million for Fiscal Year 2022. NEA awarded grants can be found here and NEH grants here.
2022 Pan-APA Annual Conference
The Penn State Pan-African Professional Alliance (Pan-APA) will be hosting our annual conference in person on April 9th, 2022 at the Pasquerilla Center in University Park, PA. This year our theme is "Community Development Initiatives in Africa" and we welcome submissions of abstracts (no more than 250 words) for projects broadly connected to this theme. Graduate students from all disciplines, programs, and universities are welcome to submit abstracts to present either orally (15-minute presentation) or via poster. The call for abstracts can be found here. The final deadline for all submissions is March 8, 2022. Registration for the conference is open here.
Job Openings with the Montgomery County Council
The Montgomery County Council is hiring 3 Legislative Analysts; one will focus on housing issues, one on health and human services and the other a general analyst to focus on one or more public policy areas.  Legislative Analysts provides guidance and in-depth analysis to the Montgomery County Council and its 9 elected Councilmembers, who serve over 1 million diverse and engaged residents.  The positions work directly with Council members, senior staff, County departments, and other stakeholders to develop, draft, and analyze complex policy and fiscal issues. Closing date: March 11, 2022
For complete job descriptions and how to apply:
Legislative Analyst I (General Focus)
Legislative Analyst II/III (Housing & Health and Human Services Focus)
Graduate Student Fellowships from George Mason University
The Mercatus Center at George Mason University is now accepting applications for 2022-2023 fellowships. All applications are due on March 15, 2022.
Adam Smith Fellowship: A one-year program for doctoral students from any university and discipline who are interested in political economy.
Frédéric Bastiat Fellowship: A one-year program for graduate students from any university and discipline who are interested in public policy.
Oskar Morgenstern Fellowship: A one-year program for doctoral students from any university and discipline with training in quantitative methods and interest in political economy.
Remote Summer Internship Opportunity
The American Association for State and Local History (AASLH) is now accepting applications for their 2022 Summer Professional Development Intern. The Professional Development team coordinates AASLH's webinars, online courses, workshops, the History Leadership Institute (HLI), and the Standards and Excellence Program for History Organizations (STEPS). The deadline to apply is March 15, 2022. The paid and remote internship is set to begin in June 2022. More information can be found here.
Bryce Harlow Fellowship
Fellowships are awarded to individuals working full-time, attending graduate school part-time and who anticipate having careers in the field of government relations, lobbying or advocacy. Recipients receive $8,000 ($4,000 per semester), mentoring opportunities, and access to seminars and other educational activities.  More information can be found here. Deadline: April 29, 2022
Updated March 8, 2022