When Paul Wahlbeck was named permanent dean of the Columbian College of Arts and Sciences in late July, he faced an educational landscape transformed by the COVID-19 pandemic. From navigating the challenges of online learning while managing a major budget crisis, to ensuring the health and wellbeing of students, faculty and staff, the path ahead is daunting.
But, in many ways, Wahlbeck—who served as interim dean for two years prior to his permanent appointment—is ideally suited to lead the university's largest academic unit in this time of uncertainty. As the former vice dean of CCAS programs and research, chair of the Political Science Department and a GW faculty member for more than two decades, he is in familiar territory—and one that is all the more enhanced through long-standing ties with students, faculty and alumni. He has earned a reputation not only as an advocate for strengthening the student learning experience and supporting faculty scholarship, but also as a compassionate teacher and colleague whose door is always open to chat about everything from the Supreme Court (his field of expertise) to baseball (a sport he is passionate about). And as a father of three children who are pursuing their graduate and undergraduate degrees, he fully appreciates how students are uniquely impacted by the pandemic.
"I understand the heart-rending questions that students are grappling with, and I try to reflect on what I am thinking as a parent," he said. "To me, empathy is the key. We have to be sympathetic toward the challenges that our students and their families face. And we have to do everything we can to help them solve those problems. We're not going to be able to solve all of them. But we're certainly going to try."
In a recent interview, Wahlbeck discussed the new online learning landscape and his vision for the future of Columbian College.
Q: Congratulations on your appointment as permanent dean. Obviously, you come to this position under very difficult circumstances. How can you sum up what you have seen and experienced at this time?
A: The way I describe it is that we are reconstructing and reinventing what the college experience looks like. Certainly, we saw that with Commencement moving to a virtual format this year. We have also seen it this summer with student research and internships relying more heavily on virtual tools to conduct their work. Every piece of our operation is different today than it was a year ago. Faculty, staff and students are looking for some semblance of order amidst the chaos and uncertainty. That's something I am trying to double down on as dean—bringing stable and caring leadership in a time that's very unsteady for all of us.
Q: What can you say to students who are feeling apprehensive about online learning this fall? How can we reassure them that it will be an active, engaged experience?
A: First, I would say I understand their concern. I also want to assure our students that we are focusing all our efforts on providing a high-quality virtual learning experience. Right at the outset of this crisis, we anticipated that some of our students would not be able to return to campus and that some of our faculty, for health reasons, would not be able to physically be here either. We have been preparing in advance for online instruction, even if we didn't necessarily expect it to be across the board, and are equipping our faculty with the tools needed to teach remotely. And we are addressing the kinds of questions that arise in an online teaching scenario—such as how do you conduct lab classes? How do you engage international students? What do you do about academic integrity in an online setting? We have worked with faculty to organize workshops on these and other topics to prepare for the virtual classroom. It's going to be challenging, but we will get through this because of the commitment and dedication of our faculty to our students and their educational well-being.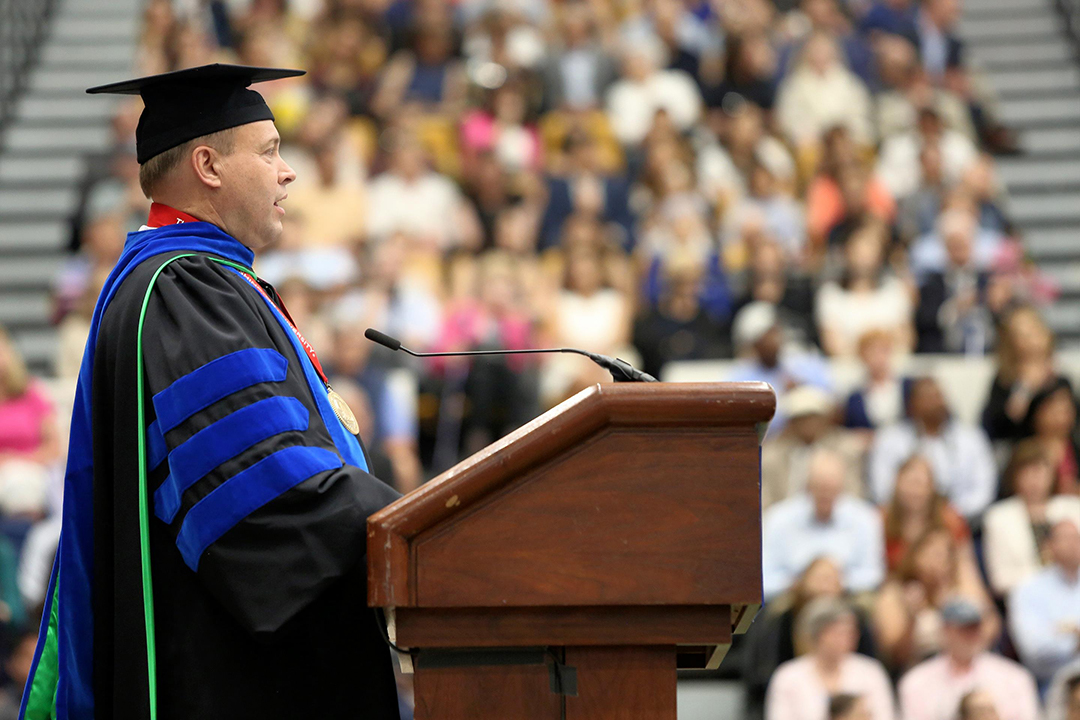 Q: Let's talk about your priorities as dean. Have they changed in the COVID landscape?
A: I think this current moment actually affirms my goals. It may make them more challenging to accomplish, but it reinforces the direction in which I've been attempting to steer us.
First, one of the critical pieces of the Columbian College experience is experiential learning. It's common for students to hold internships while in Washington. But there are other forms of experiential learning, such as short-term study abroad, that I'm all the more driven to advance. This moment has deepened the appetite for that type of experience, and we will continue to build on it once we're able to actually get out in the world again.
A second piece is faculty research. Right now, faculty aren't able to go to archives very easily or do field work abroad, but I look forward to the time when we can drive our research to even greater heights. Our faculty's scholarly activities are at the heart of the college's innovative spirit as we aspire to preeminence as a comprehensive global research university.
And third, when the pandemic hit, we were in the planning stages for an inaugural director of diversity, equity and inclusion to help us have a more diverse community within Columbian College. Given the recent events that have made headlines these past few months, I am all the more desirous to push forward on that initiative and to ensuring an inclusive environment for our students.
Q: How would you describe your leadership style? Is there anybody you pattern yourself on?
A: One of my mentors was the late Lee Sigelman, a former colleague and chair of the Political Science Department. He valued collegiality and getting input from every person in the room before making decisions. It's always important to listen—but especially now. The best ideas may very well come from the other people around me. I have to be willing to listen to the views of everyone in the room. As dean, I have to surround myself with good people who have our shared values in mind and empower them to do their jobs.
Q: Most people know you love baseball and you're a big Cubs fan. But what's something we don't know about you?
A: When I was a kid, I played the cello. I was a very mediocre part of a very outstanding high school orchestra. But in the fall of my freshman year of college, I had to choose whether to take an intro to political science class or join the college symphony. I picked political science. I've often thought that had I gone the other route I would have loved to be a symphony conductor. And being dean is a lot like being a conductor! I'm not usually the one who's playing the instrument, but I'm helping the talented people around me work together in order to accomplish all of our shared goals.
---