An exercise revolution. Food that can save the planet. An innovative approach to online learning. And the Uber of garbage.
What do they have in common? They're the brainchildren of Columbian College alumni "unicorns"—entrepreneurs who founded businesses that surpassed $1 billion in valuation since 2005. GW ranked among the top 15 unicorn-creating universities nationwide according to Medium magazine, based on the success of four savvy alumni—Peloton's Tom Cortese, BA '02; JUST's Josh Balk, BA '03; 2U's Christopher "Chip" Paucek, BA '92; and Rubicon Global's Nate Morris, BA '03.
"Successful entrepreneurs need to have at least three traits: They want to make a difference, they think innovatively and they have a bias for action," said Jim Chung, GW's associate vice president for research, innovation and entrepreneurship. "GW tends to attract these kinds of students. As a result, our alumni have done especially well in the entrepreneurial world."
"We are particularly proud that all four of GW's unicorns are Columbian College graduates," added Paul Wahlbeck, interim CCAS dean. "Their incredible success demonstrates the value of a broad-based liberal arts education."  
CCAS Spotlight looked at how each unicorn turned their Columbian College education into startup wizardry.
Fighting for the Underdogs (and Cows and Chickens)
Josh Balk
Josh Balk has always had a soft spot for underdogs—especially when they're actual animals.
"Animals can't speak up for themselves," said the political science major. "Someone has to be on their side."
Balk is coming to the rescue of animals and humans alike. As vice president of farm animal protection for the Humane Society of the United States, he has teamed with the food industry to eliminate veal crates, gestation pens for breeding pigs and battery cages for chickens.
And with JUST, a food company he co-founded with a high school classmate, Balk markets affordable, sustainable plant-based products from dressings, dips and cookie dough to liquid eggs and vegan mayo. His healthy, humane menu is so earth-friendly that Bill Gates called JUST "the future of food."
Plant-based food "is dramatically better for the planet," Balk said. "It relieves animal suffering . . . and it leads to reductions of greenhouse gas emissions, land use and water use. And it happens to be darn delicious too."
Balk's advocacy has earned him accolades like Inc. Magazine "35 under 35" honors and the publication's "top 15 entrepreneurs to watch." In 2015, he was elected to the Animal Rights Hall of Fame by global animal welfare leaders.
Balk credits GW with opening doors to his activism—literally. As a senior, he strolled into the Humane Society's Washington, D.C., offices and landed an internship on the spot. "GW was wonderful at encouraging students to get involved," he said. "Whether it was interning or volunteering, GW made me feel like I could go out and make a difference."
Higher Ed's 'Home' Work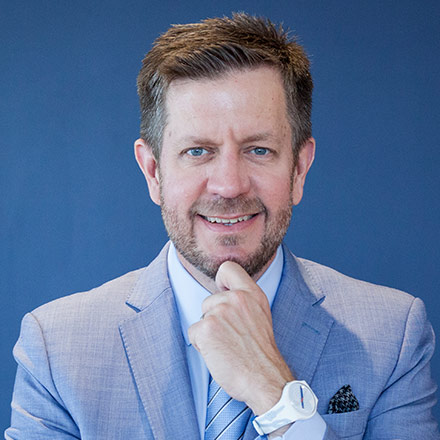 Christopher "Chip" Paucek
South Florida native Christopher "Chip" Paucek saw his first snowfall when he arrived at GW. The political communication major also met his wife while studying at Foggy Bottom. And he forged a philosophy that would transform online education. "I can't overstate the impact GW had on my life," he said in an interview with the HuffPost. "From then on, I became convinced that higher education has the power to fundamentally change the lives of people everywhere."
Paucek is the co-founder and CEO of 2U, Inc., described by Forbes Magazine as the "nation's leading provider of software" for educational institutions.  He partners with colleges and universities on online education platforms that bring digital versions of campuses into students' homes.
A first-generation college student, Paucek understands the value of quality higher education. But he also recognized that some people are so hamstrung by time constraints and commitments that a degree can seem out of reach. The right online education, he realized, opens academic doors for busy adults. "For the first time ever you don't have to pick up your life, quit your job and move to attend a great school and really become the person you want to be," he said.
Paucek has earned a string of honors, including the Ernst & Young Entrepreneur of the Year Award in 2012, the Goldman Sachs 100 Most Intriguing Entrepreneurs Award in 2013 and multiple Highest Rated CEO awards from Glassdoor. In 2017, he was listed among America's best chief executives in Institutional Investor magazine.
But Paucek is quick to credit his team of creative professionals for 2U's success. "I look for talent that brightens the room," he said. "You can train the skillset, but you can't train the spirit."
Disposing of Global Garbage 
Nate Morris
Nate Morris, who majored in political science, has heard his company Rubicon Global referred to as the "Uber of garbage." His novel approach to waste management does indeed sport some ride-sharing similarities; it matches multinational clients with local haulers.
But Morris founded Rubicon in 2008 with a loftier mission: "To end waste," he explained.
A worldwide leader in sustainable waste and recycling services, Rubicon has expanded to all 50 states and across 18 countries on five continents. Using cloud-based technology, Morris' firm helps small businesses compete for waste industry contracts by letting consumers pick their own trash collectors. At the same time, he is disrupting the traditional landfill model through an emphasis on recycling the largest amount of materials possible.
That approach has led to Rubicon being recognized as "One of the World's Most Innovative Companies" by Fast Company magazine and as an "Industry Disruptor" by Inc Magazine. And Morris has been named one of Fortune Magazine's "40 under 40" business leaders, a Young Global Leader by the World Economic Forum and a 2018 Most Admired CEO by the Atlanta Business Chronicle. His work with his nonprofit Morris Foundation to improve the lives of Kentucky's working families through strategic giving earned him a spot in the Kentucky Entrepreneur Hall of Fame.
Born in Lexington, Ky., Morris was raised by a single mother with help from his grandfather, a union leader and Army veteran, and his grandmother, a homemaker. He studied at GW as a Scottish Rite Scholar. "During my time at George Washington, I was immersed in a world that allowed me to develop my leadership skills and probe important public policy challenges related to the environment," Morris said. "I remain immensely grateful for my time at GW, and especially for my professors who continue to serve as mentors today."
 
The Stationary Bike of the Stars
Tom Cortese
Several years ago, Tom Cortese and a small band of tech workers wanted to make working out at home more accessible and maybe even fun.
"Once you have kids, families, all the stresses of a job, fitness doesn't have as much of a place in your life," said Cortese, a former philosophy major.
Their brainstorm solution was Peloton, a stationary bicycle and exercise-content company that live streams fitness classes to users pedaling along at home. Founded in 2012, Peloton sold its first bike in 2014, and now counts all-star clients like David Beckham, Ellen DeGeneres, Hugh Jackman and Leonardo DiCaprio among its bike-owners.
Cortese, the company's co-founder and chief operating officer, never set out to make an exercise bike company. "We wanted to solve a bigger problem, which was moving fitness into the comfort and convenience of home," he said. "Virtually everybody told us that our idea wouldn't work at all. But we had lots of people say if you can pull it off, it's exactly what we want."
Merging media, technology and exercise, Cortese built a platform that brought a community of clients together around shared experiences. "For us, it was: Let's take what's working, let's make sure we're focused and understand what the consumers love and what's resonating for them," he said. "Let's figure out how to scale it and bring it into a convenient location, which is the home."
For Cortese, the stationary bike was the ideal vehicle to help launch his fitness revolution. "The beautiful thing about the bike is it's an incredibly approachable piece of equipment. People understand the concept of a bike. You can adjust the resistance and cadence yourself. There's no machine that's driving you. To us, it was a really great starting point." 
(The interview with Tom Cortese originally appeared in GW Magazine.)
---