With a limited number of students on campus this fall and all classes taught remotely, CCAS Spotlight asked Columbian College students to share their stories of how they are approaching online learning, their expectations for the semester and their tips for staying positive in the face of new challenges.
Liam Searcy: "We're all going to learn how to do this together."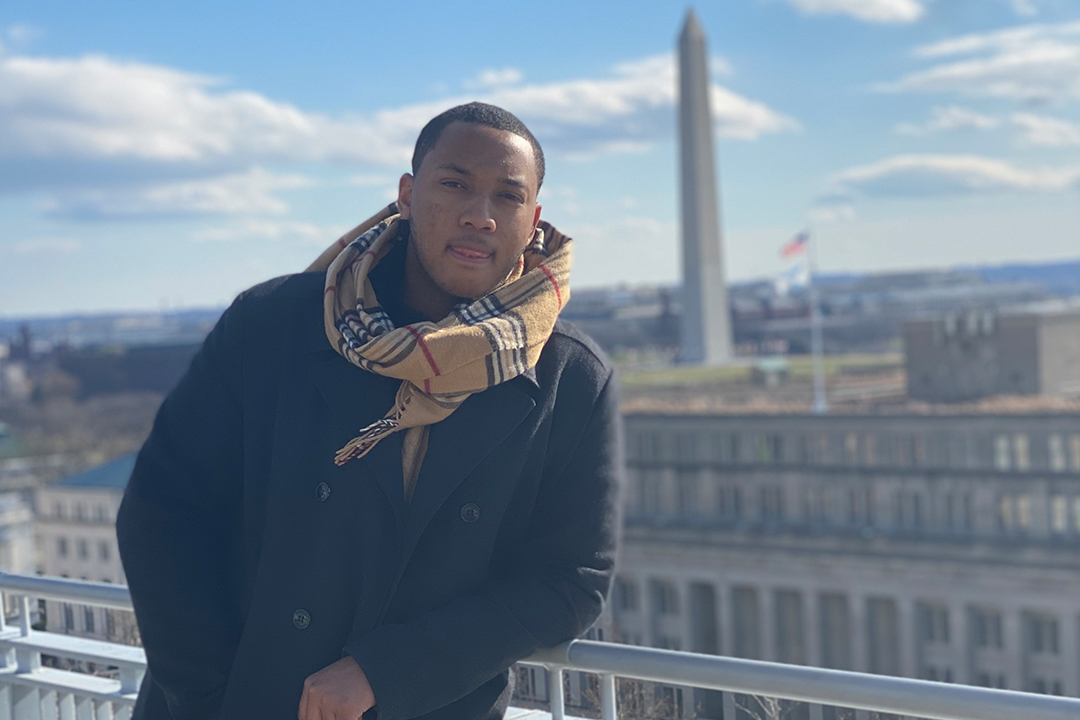 Like so many other students, Liam Searcy has seen the COVID-19 pandemic change his well-laid plans. The biology and psychology major expected to start an internship at Children's National Hospital, train for his emergency medical technician (EMT) certification and take a full course load of hands-on labs to help him prepare for a career in medicine.
But as he arrived on campus from St. Louis this fall, Searcy found his internship canceled, his EMT training delayed and his labs taught remotely. He wasn't surprised. This summer, while volunteering at a COVID testing center, Searcy saw first-hand how the virus has upended people's lives. That's why, when he chose to return to Foggy Bottom for the fall semester, Searcy wanted to help other students cope with the new education realities. As a teaching assistant for Assistant Professor of Biology Hartmut Doebel, Searcy hopes to guide first-year students through a learning environment that is unfamiliar to everyone.
"It's a semester like we haven't seen before," Searcy said. "They will be adjusting to it at the same time I am. We're all going to learn how to do this together day-by-day."
Searcy's advice—for himself and other students—is to stay focused and keep long-term goals in mind, like studying for his MCAT exams in the spring. "And stock up on coffee," he said. "That's always a great motivator."
 Eugenie Pflieger: "This is a different experience. But it doesn't have to be a lesser one."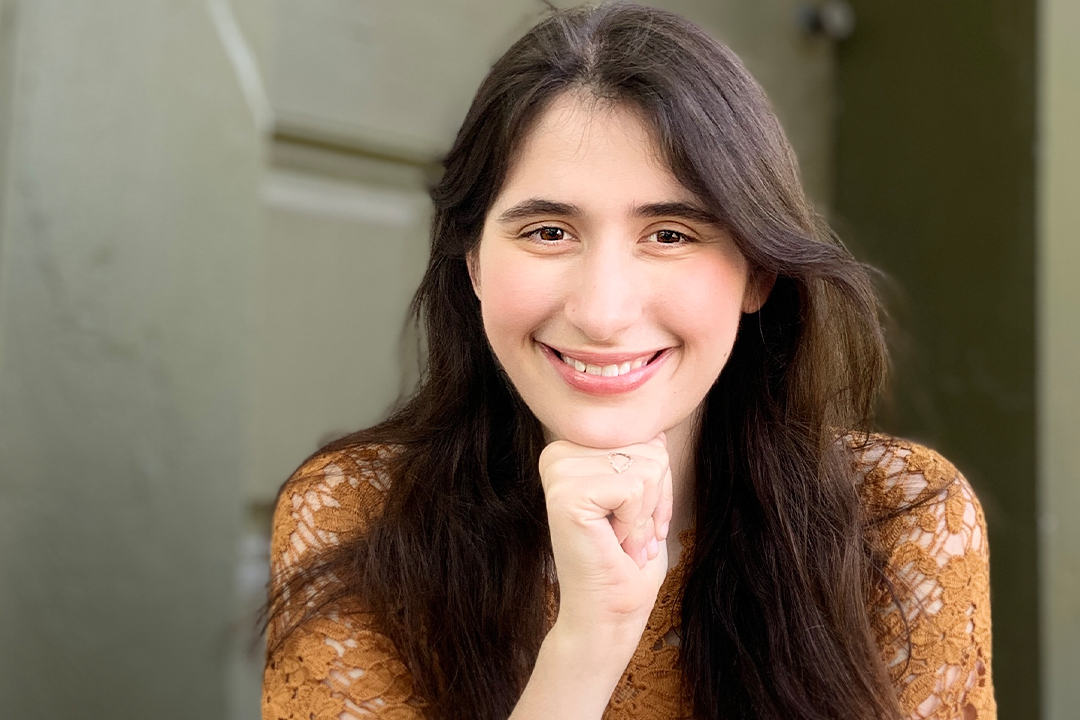 Eugenie Pflieger spent an anxious summer preparing for her first year at GW. She was excited to dive into a new experience and meet new people. But she was also apprehensive about living on campus during the COVID pandemic. By the time the university announced that all classes would take place online, Pflieger had already resigned herself to spending her first semester at home in Houston. "I was actually relieved that I didn't have to go to campus," she said. "It was the best possible decision for the student body, for the faculty, for everyone."
Pflieger is focused on being as engaged as possible in the GW experience and has already made new friends through her remote participation in GW's Women's Leadership Program's meetings and membership in the GW University Singers and the American Medical and Physiology Club. (She is weighing a major in either biology or music.)
She also plans to expand her volunteer work with the Houston homeless population. She and her high school classmates recently published an arts anthology titled Looking Up, with all proceeds donated to the nonprofit Healthcare for the Homeless Houston.
"This is a different experience. But it doesn't have to be a lesser one," she said. "Even though things aren't happening the way I wanted, I tell myself there is always something I can do to make life better—for me and the people around me."
Isabella Guastaferro: "I'm not going to let this semester pass me by."'
When sophomore psychology major Isabella Guastaferro arrived at her Foggy Bottom dorm room this August, she kicked off her shoes, washed her hands and immediately unpacked cleaning supplies. She and her mother had left the Dominican Republic early that morning. But before they could get off their feet, their first priority was keeping themselves safe.
"At home, every time we come back from a crowded place, we take off our shoes, and before touching anything or sitting anywhere, we go to the shower right away," Guastaferro said. "I will continue doing this every time I step into the dorm."
Guastaferro and her family agonized over whether she should return to campus or study remotely from their home in Santo Domingo. And while Guastaferro believes coming back to Foggy Bottom was the right choice for her, she knows that she will have to approach the semester very differently from her first year—both academically and socially. The spring remote learning experience taught her to focus on tests and assignments as if she were in the classroom. And while she is committed to following strict social distancing guidelines, she doesn't intend to stay locked in her dorm room.
"Going outside and enjoying the fresh air is key to keeping up my motivation," she said. "I plan to walk around town, go on bike rides and run every morning. I am going to stay safe. And I'm not going to let this semester pass me by."
Madeline Aguirre: "The world hasn't stopped. I'm not going to stop either."
Madeline Aguirre, a fourth-year student majoring in economics, is approaching the new college environment the same way she approached the old one. She's up early, checking in with her work study job at the Biomedical Engineering Department and chatting with her fellow GW Cisneros Scholars before her classes begin.
But this fall, Aguirre is following her routine remotely from her home in Pico Rivera, Calif. It means rising even earlier to make up for the three-hour time difference between coasts. And all of her contacts are virtual. Still, Aguirre expects her final year at GW to be as memorable as her first.
"I am a very positive person. I'm doing my part to get this pandemic under control so we can have a normal spring semester," she said. "I'm hopeful I can graduate on the National Mall. But a virtual graduation won't take away from the specialness of that day."
As a Cisneros Scholar, Aguirre keeps in contact with the Cisneros Hispanic Leadership Institute through monthly Zoom meetings and regular posts on Slack. She attended a recent virtual event addressing nutritional inequalities among children in Puerto Rico. "The world hasn't stopped," she said. "I'm not going to stop either."
---